PURE COTTON
Organic Cotton Baby blanket/ comfort blanket
$249.00
Absolute comfort for you little one
Pure Cotton Organic Cotton Baby blanket/ comfort blanket can be used as a thin night quilt, as well as wrapping your child as a soft and comfortable swaddle. It can also been used as the most comfortable and safe comforter. Pure cotton materials and soft texture help improve you child's sleeping quality and to ensure he/she sleep tight as night without skin irritation.
Features :
Size 80 x 100cm
Double thickness generous size blanket of softest cotton to comfort and snuggle babies and children of all ages
Soft cotton bound edges
Useful to protect areas of eczema from allergen on upholstered sofas and chairs
Large enough to be a great play mat
Reversible
Made in Egypt for Cotton Comfort
In stock
Ingredients:
100% Pure Cotton
Notes:
Machine wash at 60 degrees. Products should avoid ironing and drying procedures.
| | |
| --- | --- |
| Size | 80 x 100 cm |
| Treatment | |
Only logged in customers who have purchased this product may leave a review.
Related products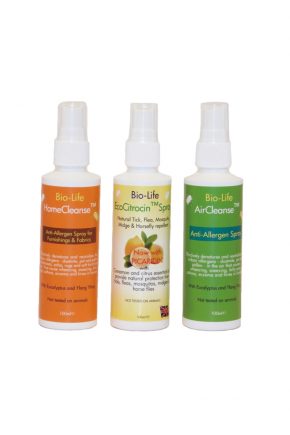 EcoCitrocin™ spray is an insect repellent based on the World Health Organisation approved ingredient Picaridin and natural essential oils. Reduces the airborne allergen load, in particular pollen and pet, by at least 65% and up to 85% when used with PetalCleanse™ Dog and PetalCleanse® Cat. During the winter months, a weekly spray is adequate to reduce pet allergens to a tolerable level but the spray should be used once a day during the pollen season.
HomeCleanse™ spray for mattresses and soft furnishings gets rid of dustmites and bed bugs, an all too common feature of hotels and holiday lets. For dustmite  allergy suffers. a once -per-month treatment is sufficient to ease the problem. For those with pets, a once per week treatment is recommended, along with PetalCleanse™ Dog and PetalCleanse® Cat
AirCleanse™ gets rid of pollen, dustmite and mould from the air so that you will not suffer from sneezing, wheezing, asthma, eczema or hives when you are away from home.
Features:
Certification:

Allergy UK Allergy Friendly Product

Product of UK
Certification

---
Others